← All Events
Artist Talks & Printmaking Activities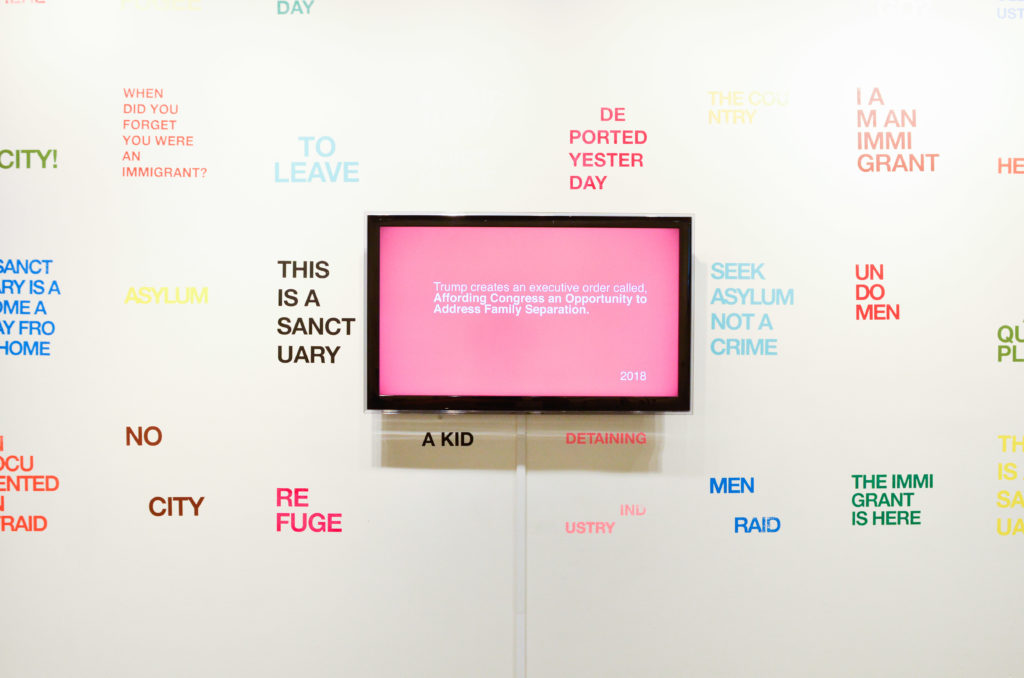 Join us for

artist talks and

printmaking activities with Grace Rosario Perkins, Sergio De La Torre & Chris Treggiari and Dawline-Jane Oni-Eseleh

!
ARTIST TALKS & PRINTMAKING ACTIVITIES 1:00 – 4:30PM
Grace Rosario Perkins, in collaboration with the Golden Gate Public Library and surrounding recreation centers, is working with youth to investigate landscape, identity, and time. With writing as a beginning prompt, archive as a source of investigation, and personal narrative as a building block, her installation in the gallery will change over the course of six weeks comprising large scale prints, wearable textiles, planters, and paintings in which the artist along with her collaborators will investigate what the future looks like, upholding history and physical presence as a radical notion. At the end of the exhibition, this install will become a collaborative visual lexicon central to the neighborhood.
Sergio De La Torre and Chris Treggiari's The Sanctuary City Print Shop is an ongoing project looking at Sanctuary Cities, ICE raids and their effect in the Bay Area immigrant community. Through conversations with local nonprofits and their constituents, this new iteration created pop-up printing events at various locations along San Pablo Avenue and in the expanded Bay Area. The project's goal is to amplify these voices – using posters to get these messages out up and down San Pablo Avenue. In the Kala gallery, messages are directly silkscreen-printed on the wall with a timeline video showing qualitative and quantitative research surrounding the sanctuary ordinance and immigration issues beginning in 1989, when San Francisco became a sanctuary city, until present day.
For the past couple of years the bulk of Dawline-Jane Oni-Eseleh's printmaking work has traced her ancestors journey through the African Diaspora using family stories, photo albums and genetic research as reference points. During her time as a Print Public artist-in-residence this work continued in the form of San Pablo Stories, a visual exploration of the past, present and future of the people who have passed through the San Pablo Avenue corridor. Working with people in states of transition and transformation, Dawline creates a visual representation of a place through its residents that transcends time. She collages woodblock and linoleum portrait prints of people who she encountered on the street with hand-painted polaroids and photographs, and a poem San Pablo Avenue written by Judy Juanita.
Event Details
Date: June 29, 2019
Time: 1:00 pm–4:30 pm
Kala Gallery
2990 San Pablo Ave.
Berkeley, CA 94702