Interview With Genevieve Quick
2010-2011 Kala Art Institute Fellow Genevieve Quick's work draws on the history of image-making devices from the Victorian period to more modern satellites and space telescopes. Her mixed media pieces–currently on view in Kala's current exhibition, Residency Projects I–reference NASA's unmanned (and camera-equipped) exploratory vehicles that were sent to Mars in the 1970s and again in 2003.
Crossing over boundaries, from sculpture to photography and video, her work explores "the way that light operates in the production of images and the way that images span distance," addressing the specific nature of how we see, observe and visualize our world.
I recently sat down with Genevieve to talk about her recent projects. -Eric Hoffman
EH: All of your projects seem to relate to the physical process of image and light transmission through various apparatus. They also have to do with the phenomenon of "remote imaging". Can you say where these interests originated?
GQ: After graduate school, I was making these large landscape-sculptures, and I wanted to investigate ways of adding to this process. One of the things that I thought about was ways of integrating mirrors or lenses into them…and how to create images from these sculptures. And then I became more interested in the actual devices of making images than in the original landscape-sculptures.
I divide my practice into two areas: One is the optical-making apparatus that I make, and the other area is the images. In the images, I'm interested in mimicking mechanical or lens-based media, so I use lightboxes and I use light to create the images.
Why the interest in remote-viewing experiences?
Well, I think that's what we do when we watch TV every night…there's this sort of voyeurism. That's one of the ways photography and video works, is through remote vision.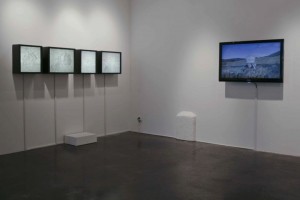 Can you talk about what you've been doing as part of your Kala residency?
When I made my application for a Kala Fellowship, I had the idea of making this sculpture (Tellurian-to-Tellurian Lander) and doing the stop-motion animation (Tellurian-to-Tellurian Lander Analog Mission Video). I hadn't made a video in a really long time, so this was a really great opportunity for me to do that again, being at Kala.
Before the residency, I made the sculpture and during my residency period, I focused on editing the video and doing the photographic stills. And then I started dabbling around with some other photographic projects also.
Can you talk about this piece ("Tellurian-to-Tellurian Lander in Chroma Key Blue")?
In this piece I wanted to reveal the process of how the (T2 Lander) unit unfolds. So this is shot with a "Chroma Key Blue" backdrop, and some of the images were then used for the animation. So there's a relationship between the two pieces, that goes beyond just the sculpture.
Does the "Lander" sculpture function as a camera?
Yes…There's a system of lenses inside of it and it basically acts as a rear-projection, like a camera obscura.
You've said that you're interested in the way that an image can be an analogy. Would you say that the idea of "the analog" is a subject in your work?
I don't know if it's a subject matter as much as it is a conceptual approach for me. I think about "analog" in terms of digital, and thinking about the way that in lens-based media, as the light is passing through the lens and hitting the light-sensitive material, it creates an analog to what's outside of that. So there's a sort of one-to-one relationship. What happens in digital technology is that instead of it being a light-sensitive material, it's a system of light sensors and it becomes a system of yes-or-no's according to which sensor the light is hitting.
So it's about that direct relationship, the one-to-one…It's a process of moving away from something, but still having your relationship to the original. It has a relationship but it becomes removed by one step.
You've also used this concept in your transfer drawings, showing how the process of making them is analogous to the process of making photographs. It seems like this conceptual tactic has been very fruitful for you.
Yeah, I mean I was really sort of amazed because I've been thinking about this idea of analog for a long time, and then I discovered that NASA does these 'analog missions'–which was just incredible to me. What they do is–they find situations on Earth that mimic situations that they expect they'll encounter in space. So if they're going to Mars, which is a very hot and dry climate, they'll go to the desert first, to test out the equipment.
How do you feel about your role as a sort of performer, with your pieces? Is that something you think about?
Yes…last year I really started thinking about trying to get the sculptures out into the world–Rather then projecting an image of a landscape model, having it actually project an image of the landscape itself.
So the idea of mobility became a really big issue–how to make one of these sculptures mobile. And that's where I come in, as a person or subject in the work. I made a piece that's sort of designed to be worn, almost like a backpack. And all of a sudden I became part of the work.
This was the "Tellurian Projection Pack," which would project onto your body an image of the landscape you were facing at that moment.
Right…it's whatever I would see out of my left eye, which then gets diverted through a system of mirrors and lenses, and then gets projected onto my back. So, it's not what I'm seeing, but it's what I could be seeing.
What else are you working on right now?
I'm working on a sculpture and some 3-D "anaglyph" drawings that look at the relationship between the deep sea and outer space. The images in the drawings are early scuba suits, diving bells, space suits, deep sea submersibles, space satellites and telescopes, things like that…the sculpture's going to be a hybrid of a deep sea submersible and space satellite, with moving parts. There's also going to be video and photographic components.